Pickpocket steal on the bus,The DVR record whole process
Richmor Jenny Renmin Wang 2014-08-28 10:09:53
Pickpocket steal on the bus,The DVR record whole process
August 23, 2014 in the afternoon, police in Fuzhou Cangshan Cangshan White Lake Pavilion vehicle stops, the flows in the short-haul passenger pickpocketing two suspects were arrested.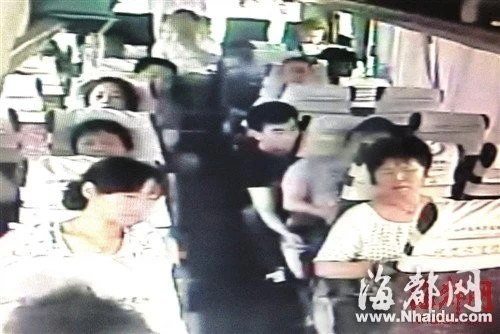 Yesterday, the reporter saw the police retrieved surveillance video from bus DVR. Incident on July 9 bus bound for Fuzhou's Changle Jinfeng. Day 14:48:47, drive to the Cangshan area, passengers are rest, the victim, Mr. Lin has been sleeping, the body tilt. At this point, sitting in the back of a young man he first reached out to gently touch Lin's pocket, then pulled out a blade and slowly cut Lin's pocket. 14:51:54, Mr Lim Apple 5S phone is stolen.
Then, under the name of the suspect looked behind the penultimate row of the middle-aged man, raised his right hand to do cypher. 14:52:24, the two went to the car door asked the driver to stop, get off to leave together. 14:54:36, Mr. Lin from asleep to wake up, find the phone inexplicably lost, saw his hip fracture, after he asked the driver to stop the alarm.
Day before 1 pm, police arrested the two men. After investigation, the two men in the theft of "mentoring" relationship. Young man Mou, 30 years old, Ningde Furuta people, history of drug abuse, was released from prison after 2013, recognizing the more than 40-year-old man Fuzhou, the two work together on the short bus pick-pocketing. Currently, the two have been under criminal detention.