Browse Categories
Subscribe

Get email updates on new products
Latest News

Richmor Hetu Vehicle Collecting Cloud is a data management platform, intended for commercial vehicles such as Taxi, school bus, coach, trucks etc. It ...

Reminder of delivery plan for your product and project Influenced by COVID-19, shipping freight increases a lot this year, especially in the 4th quart...

Jan.2014 Award winning 2014 FIFA World Cup Brazil 2014. In earlier 2013, XXXX™ (Malaysia and Singapore) chose RICHMOR Bodyworn solution as FIFA secu...

In 2020, Richmor brings software improvement to MDVR industry, which makes installation and maintenance convenient and saves cost. 1) USB mouse to set...
Contact Us

Contact Information: Richmor Marketing Office/Factory Add: No.5 Floor, D Building, Bantian International Centre,No.5 Huancheng South Road,Bantian, Longgang District, Shenzhen, China.

Tel:0086-755-81713882  Email:info@rcmcctv.com  Fax:0086-755-82556660-6014 Contact Now
Richmor factory direct sell AI ADAS DSM BSD MDVR hard disk SD card 3G 4G WIFI GPS mobile DVR for truck bus logistic fleet management
Rychlost CPU: 1,2 GHz
NOR FLASH KAPACITA: 32 MB NOR + 128M NAND
KAPACITA RAM: 1G
Video vstup: 8kanálový analogový vstup AHD HD, letecké připojení, 1,0 Vp-p, 75 Ω
Video výstup: 2kanálový kompozitní video výstup , 1,0 Vp-p , 5 Ω, vstup VGA (volitelný), 1 kanál / 2 kanály / segmentace obrazu 5/4 / segmentace obrazu 9/6
Náhled: Podpora jednoho sestřihu CH / 2 CH / 4 CH / 5 CH / 6 CH / 8 CH / 9 CH sestřihu, podpora manuálního / událostního spouštěče na celou obrazovku
Rozlišení: 1080P / 720P / D1 / HD1 / CIF, může být volitelné, maximální podpora 8kanálového 1080P
Režim nahrávání: Výchozí automatické nahrávání, podpora ACC Zapnutí 、 Ruční nahrávání 、 nahrávání alarmu atd
Analogový výstup:
1kanálový analogový výstup
1ch postpoziční analogový výstup (letectví)
Vstupní kanál: 8CH
Ovládání AGC: automatické
Vzorkovací frekvence: 8 / 16K
Přesnost vzorkování: 16
Typ rozhraní: 4jádrové letecké připojení 12M-4B / 4jádrové připojení 3,5 mm pro sluchátka
Výstupní kanál: 3kanálový
Main Features
1. Integrated ADAS (front safety auto-alarm) + DSM (Driver Status Monitor) + Driver facial recognition+BSD(Blind spot detection) 
2. Integrated high-capacity storage, which can continue to store driving data and information when the plug-in storage is damaged or removed.

3. True AI MDVR chipset inside, has self-learning ability, can optimize according to different complicated occasions.
4. New user menu,more clear and simple. Support USB mouse setting, client APP setting, remote screen setting.
Product Show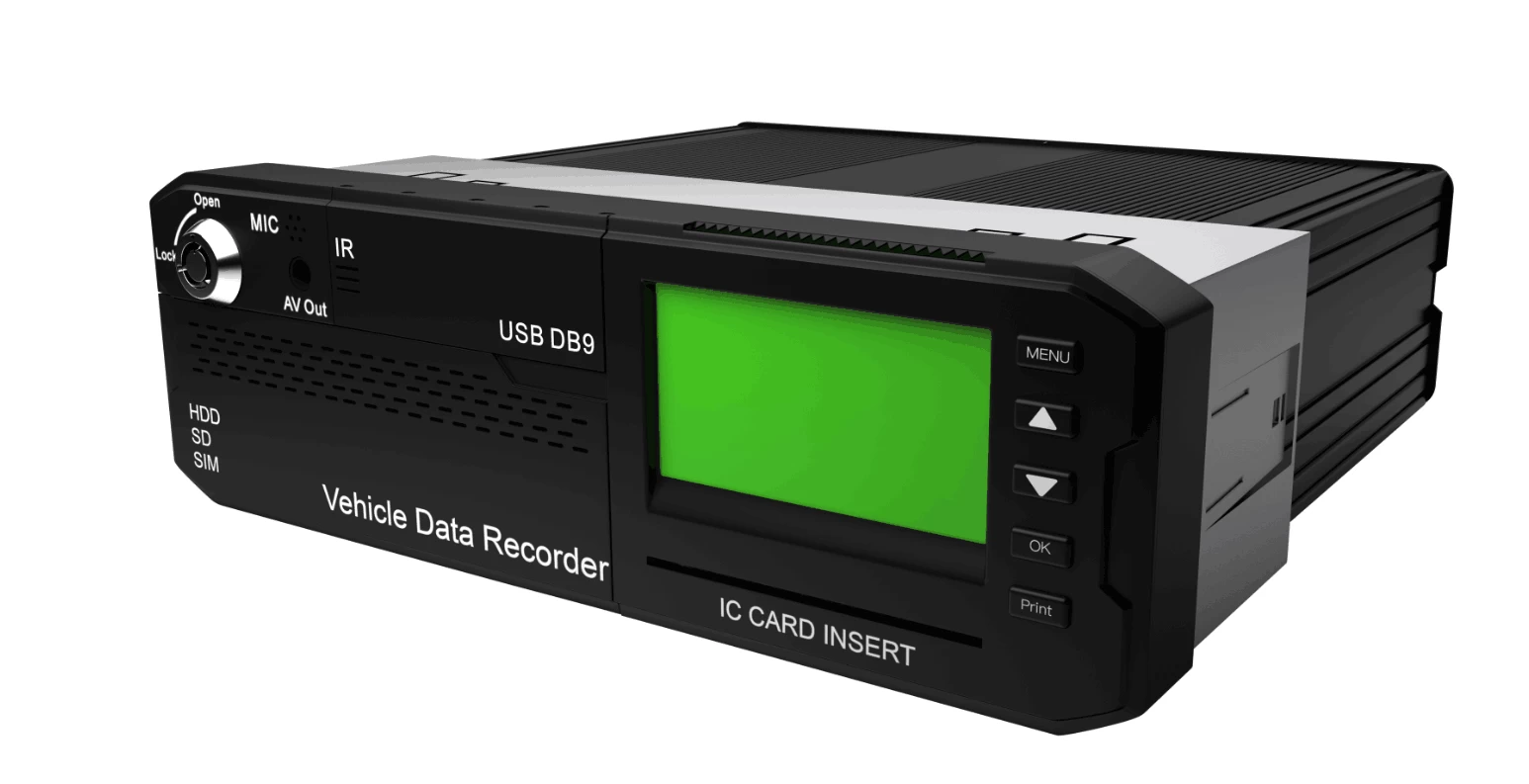 User Interface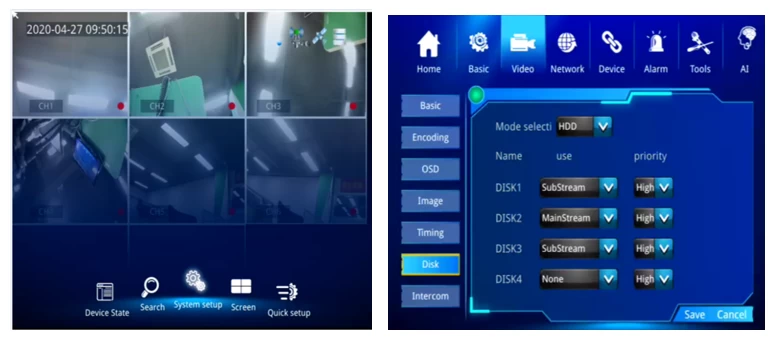 AI Function (ADAS+DSM+BSD)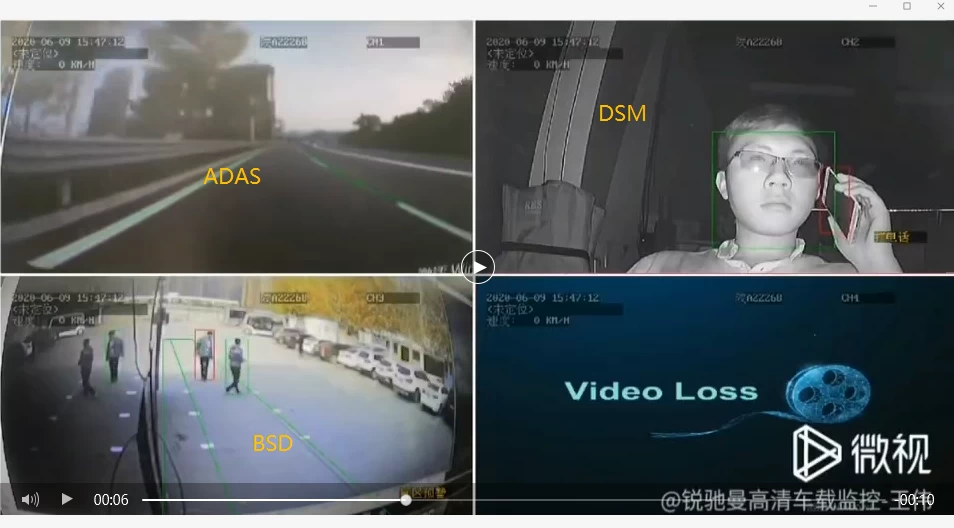 Installation Graph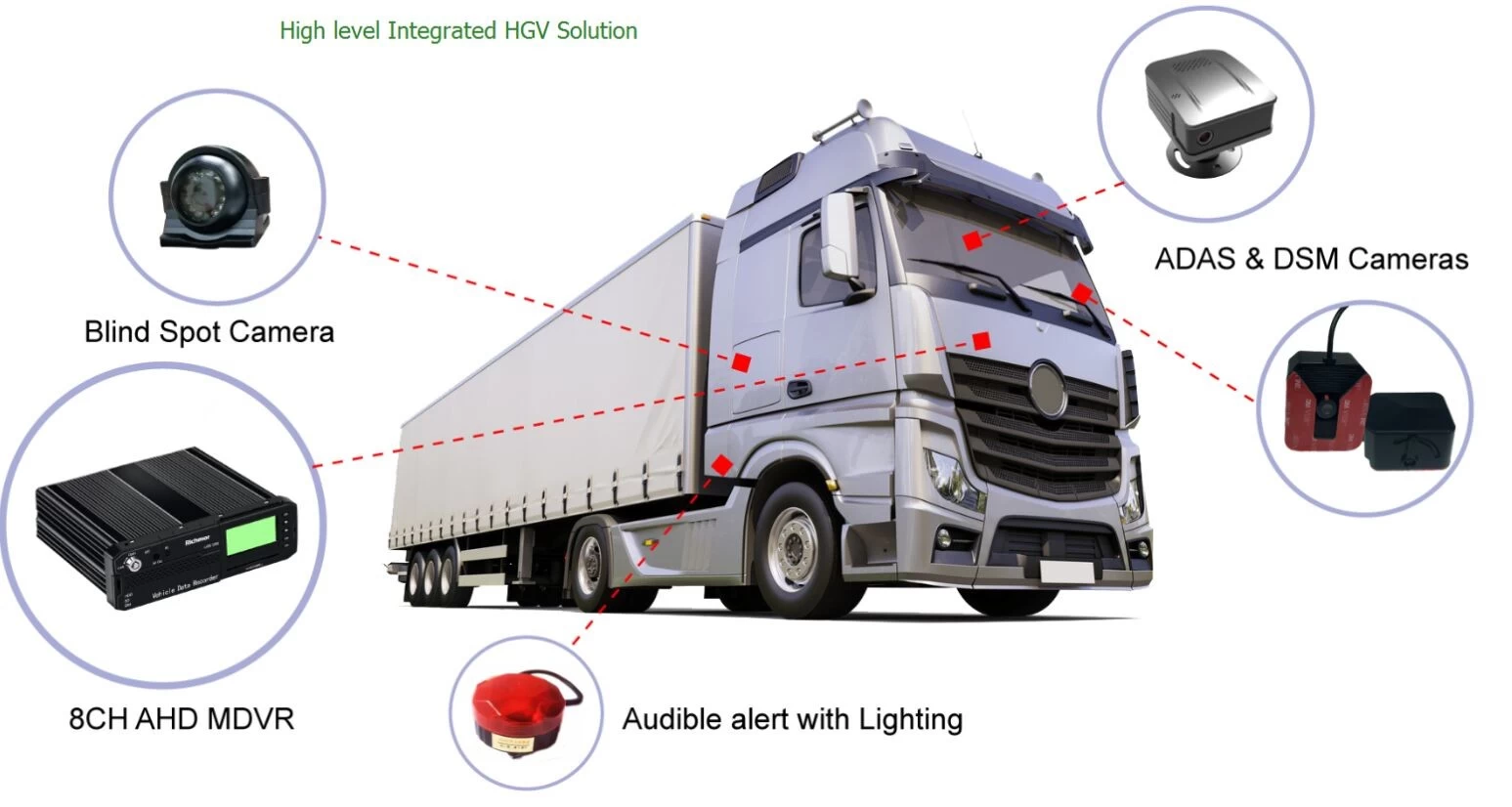 Product Features

HIS solution, H.264/H.265 compression, multi-stream recording. Support max 8CH 1080P HD video monitoring / recording (8CH 1080P real-time AHD HD input), providing HD video effect;
Real time HD video recording, 1080p / 720p / D1 / HD1 / CIF optional, adjustable frame rate of image quality;
2CH video output. Support 1CH pre-analog output and 1CH post-analog output;
Professional MDVR power design, 8-36v DC voltage input; Protection circuits for overload / undervoltage / short circuit / which is suitable for various vehicles;
Provide DC12V and DC5V power output, which can provide constant voltage power for cameras, small screens and peripheral equipment;
SD (Max 2 Large Capacity SD ) protect data from vehicle vibration and dust etc,
The prevent Watchdog abnormal restart function which can  protect the machine and video;
The unique pre-allocated MDVR system can solve: file fragments caused by repeated erasure, ensure the stability and integrity of data;
Stalling delay recording function (Max 24 hours); Built-in 3.7v/600mAh (Max1200mAh) backup battery. Support GPS upload after vehicle outage.
Protection of car accident outage: special UPS technology can make the machine work normally for 8-11s when off the external power supply (including backup battery),so as to ensure the integrity of video and facilitate accident investigation
Tag:
WIFI Car DVR
,
Dual SD Card
,
3G/4G Mobile DVR
,
GPS DVR
,
SD Card
,
HDD
,
PTZ Camera
,
LED screen control
,
fuel/oil cut off remotely
,
Broad casting
,
Talk back
,
Text
,
CCTV Mobile DVR
,
Portable Video Recorder
,
China Mobile DVRManufacturer
,
China Mobile DVR
,
Car Camera Mobile DVR
,
Vehicle DVR System
,
Mobile DVR System
,
4ch car dvr
Shenzhen Richmor Technology Development Co., Ltd.
Tel:+86-18938073583
Contact Person:Ada Lin
PDF Show:PDF
Other Products