Analysis of concrete industry characteristics
richmor richmor.net 2017-10-19 18:09:00
At present, most of the concrete companies are scheduling by artificial experience, the control capacity of the goods is limited, the specific features are as follows: Richmor as a professional manufacturer, we focus on providing customers with the most advanced
HD Vehicle DVR on sales
.

1, once installed on the vehicle runs concrete, concrete enterprise is unable to effectively monitor the vehicle at the same time, enterprises violation for drivers to achieve effective supervision, vehicle speed, vehicle detour, unloading etc. according to the requirements of scheduling are unable to monitor.

2, how to ensure the vehicle must be in the best time of unloading, less efficient scheduling mechanism, scheduling by telephone notice caused by manual operation, time-consuming, low efficiency, delay. In the vehicle during operation for vehicle information management, vehicle spacing, real-time traffic status, real-time basis, the departure site vehicle operation state of poor information, vehicle scheduling is not timely or queue of vehicles, resulting in low utilization rate of vehicles the use of resources.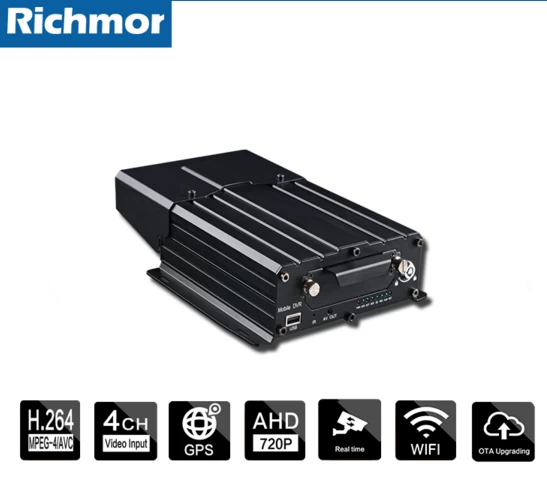 3, the enterprise for concrete vehicle driving route can not be real-time monitoring, controllable cost can not be reduced, mixing truck working state is uncertain, resulting in the quality of concrete is not guaranteed, is also one of the concrete industry distress. Richmor-China Professional
Wireless 4ch 4g Mobile Dvr wholesales
.

The existence of these problems makes it urgent for enterprises to improve their management and control capabilities through technical means, and GPS monitoring and scheduling technology is the best way of implementation. 
Application of concrete mixer GPS monitoring and management system, make the concrete enterprise to achieve full controllability, the enterprise from the traditional manual scheduling free intelligent scheduling management to scientific, informatization, so as to effectively solve the vehicle monitoring, scheduling and decision-making problems.