Vehicle monitoring products market prospects
richmor richmor.net 2017-11-13 17:45:40
According to the latest statistics from the Chinese Automobile Industry Association, the first half of China's total sales of 3 million 630 thousand and 300 cars and 3 million 535 thousand and 200 vehicles, an increase of 28.94% and 26.71%. Now the city bus ownership at around 300 thousand, according to the development plan of the Ministry of construction, the National Bus Holdings in 2010 will reach 50-60 million scale. Now everywhere in the large-scale implementation of the policy of "bus priority", as the bus monitor brings opportunity. In 2006 China car sales more than 7 million vehicles, the rapid growth of sales figures and huge market capacity so that any company can not be ignored.
Now, in traffic management, traffic police on duty, law enforcement, transportation bank escorts and other industries, the demand for mobile DVR, Car DVR requirements are higher, this will be the birth of a huge bus monitoring market. Richmor-China Professional
HD Vehicle DVR system supplier
.
At present, the international anti-terrorism situation, western development and the revitalization of the northeast, the 2008 Shanghai Olympics and the World Expo, the domestic construction and rapid urbanization and city safe city construction are the main positive factors that may affect the development of the market of car dvr.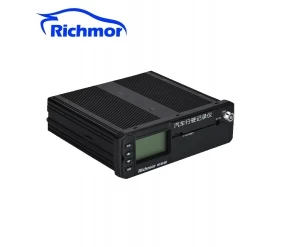 Application of 3G communication makes the remote wireless transmission of large data flow more convenient, based on this technology, will expand the application of remote video monitoring. Richmor as a professional manufacturer, we focus on providing customers with the most advanced
HD Vehicle DVR on sales
.
Communication operators in terms of network technology and mature, hope to be able to develop more business. 
This makes the mobile DVR remote video surveillance business operators must be sought to promote mobile DVR business. The development of network technology, the rapid popularization of WLAN, WiMax technology, mobile DVR multimedia management function is more convenient, for example, a multimedia program download video updates, can be WLAN, WiMax and other wireless technologies become more convenient and easy to use based on, which leads to more advertising operators to join the car ads in this huge market in the big stage of the carrier vehicle DVR become the business competition.