The main functions of vehicle monitoring system 2
richmor richmor.net 2017-08-30 12:38:19
7, display function and external device access
Through the public transport intelligent dispatching screen, it can display the bus dispatching information, the rear door monitoring picture, GPS information, DVR operation state, network connection status and so on.

8, voice intercom function, voice reporting station, car inside and outside propaganda
Through the intelligent bus dispatching screen, the hand wheat can be connected with the central voice intercom. And through the connection of internal and external speakers, to achieve voice reporting station, the car inside and outside the call function. Richmor-China Professional
Vechile video recorder wholesales china
.

9, emergency alarm function
Through the intelligent alarm function of the bus dispatching screen, you can choose the type of alarm, such as car accident, traffic jam, gangster hijacking, thief theft, etc., and report the vehicle to the center. The emergency alarm button is installed in the car, and the alarm can be triggered by a single key in case of sudden emergency. The alarm information is automatically uploaded to the monitoring center, and the image inside the car automatically pops up to the central display screen, and the alarm vehicle icon flashes on the GIS map. Automatic pop-up emergency plan of software platform.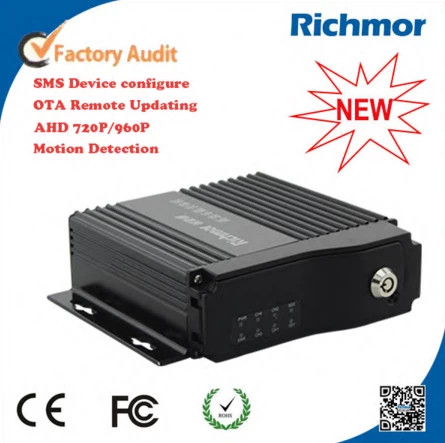 10, data information storage function
Car DVR save car monitor video files, recommend setting the timing plan video; monitoring center using the storage server to save important video and backup video, including video recording important video alarm, TV wall display, including manual backup video download video from the front, or automatically download the video according to plan. Richmor as a professional manufacturer, we focus on providing customers with the most advanced
HD Vehicle DVR with 4g gps
.

11, equipment status automatic monitoring function
System for Car DVR, each server node equipment working state of automatic monitoring equipment, when abnormal operation or fault, the monitoring center will generate alarm, including fault location and fault caused by the reasons.

12, IC credit card machine data upload
By connecting the IC card machine, real-time upload to the video monitoring platform, allowing monitoring center managers immediate control of revenue.