Bus monitoring system architecture
richmor richmor.net 2017-08-28 12:19:10
The architecture of bus monitoring system consists of three parts: vehicular front-end system, transmission network and central management system. Richmor-China Professional
HD Vehicle DVR wholesales china
.

The vehicle front-end system consists of on-board monitoring subsystem and on-board scheduling subsystem. The vehicle monitoring system via the on-board DVR host, camera, microphone, emergency alarm button, as the audio and GPS information collection, storage, transmission and management system to the center through the built-in wireless module DVR host; vehicle scheduling system to achieve bus scheduling function through the intelligent transportation scheduling screen, and can be extended and connected to the car horn, bus card, in wheat, LED screen, screen media release information. Through the original GPS system, bus station system, video surveillance system and bus credit card system, media publishing system integrated into the same set of systems. You can upload and collect data or download and update data to facilitate centralized management and generate operational statistics reports.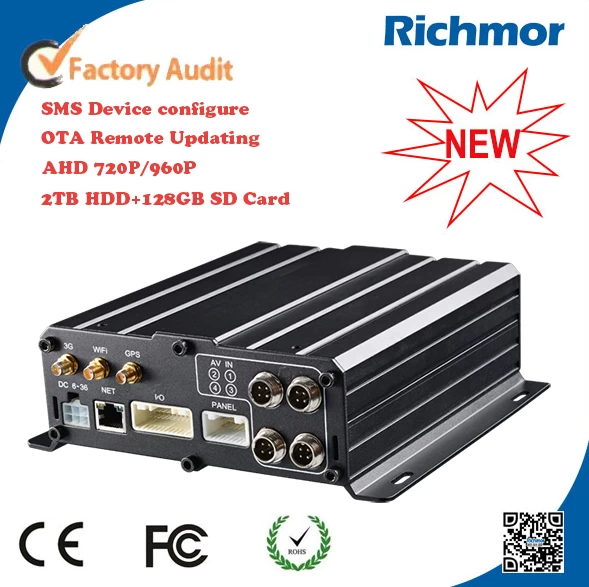 The two part contains the transmission network of wireless mobile communication transmission link and fixed line transmission link, after the communication base station is received from the front of the bus data into fixed line by the gateway for monitoring center. 
The central management system is the core of the system, which is the place where daily monitoring, bus dispatching and emergency command are carried out. Richmor as a professional manufacturer, we focus on providing customers with the most advanced
3G Mobile NVR with gps
.
The center management system to achieve the control of vehicle front system through the wireless network, realize the audio and video surveillance, GPS positioning, vehicle line management, vehicle scheduling, voice intercom, alarm processing and other functions, and can upload the data storage, summary, generating background management reports, vehicle maintenance management, line operation management and other functions.