The Solution Of Mobile DVR Wireless Monitoring For Police Car
2015-01-09 11:34:30
    System Overview 110 police out of the police community needs, the police time to seek urgent. Staff in attendance, hoping to get the command center in time means, while providing timely reporting site alarm system; timely solution to the managers want the process of on-site attendance, as in person sits finger 
1. System Overview
    110 police out of the police community needs, the police time to seek urgent. Staff in attendance, hoping to get the command center in time means, while providing timely reporting site alarm system; timely solution to the managers want the process of on-site attendance, as at the scene took command at the same time open to the public to choose to increase the transparency of law enforcement duty, upgrade Police glorious image of the minds of people, and promote social harmony.
    With the technological means "police training" should be universal, the more the new technology, new equipment and gradually put into, Beijing Feng Jiang Vision Technology company provides Mobile DVR System Products Images can promptly resolve end attendant backhaul monitoring cardiac demand; wireless CDMA / EDGE VideoServerToo widely.
    Wireless CDMA / EDGEVideo ServerSo Unicom CDMA mobile EDGE network card or cards that can transmit a clear and coherent way road or video, without pictures. Such monitoring center staff on duty will be able to watch video over the network in a timely manner; collar watch videos via the mobile phone network, anytime, anywhere in a timely manner means field work.
2.Monitoring SystemSchematic: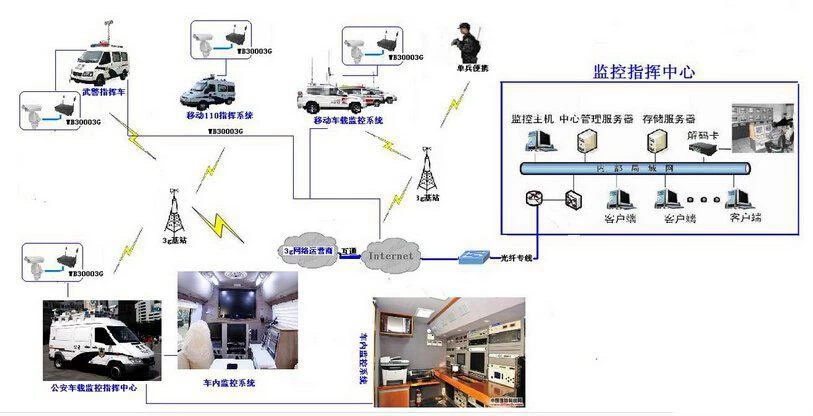 Monitoring client:
Local car video viewing control; mining car display control keyboard, a police car police car can regulateVideo cameraAzimuth angle of view. Vehicle real-time viewing, and can capture the video card.
    At the same time the car radio channel wireless video server, transfer video command center, command center for people watching, and storage.
Command Center:
    Networked PC users can watch videos timely end; through Decoder TV wall Screen display; but also through mobile wireless access systems, mobile phones to watch, even if the body to travel, to learn everything happen live! And can remotely control the camera rotation stretch.
    Video evidence to make the supervision of law enforcement; to store, playback, search, download.